The 5 most romantic spots in Aix-en-Provence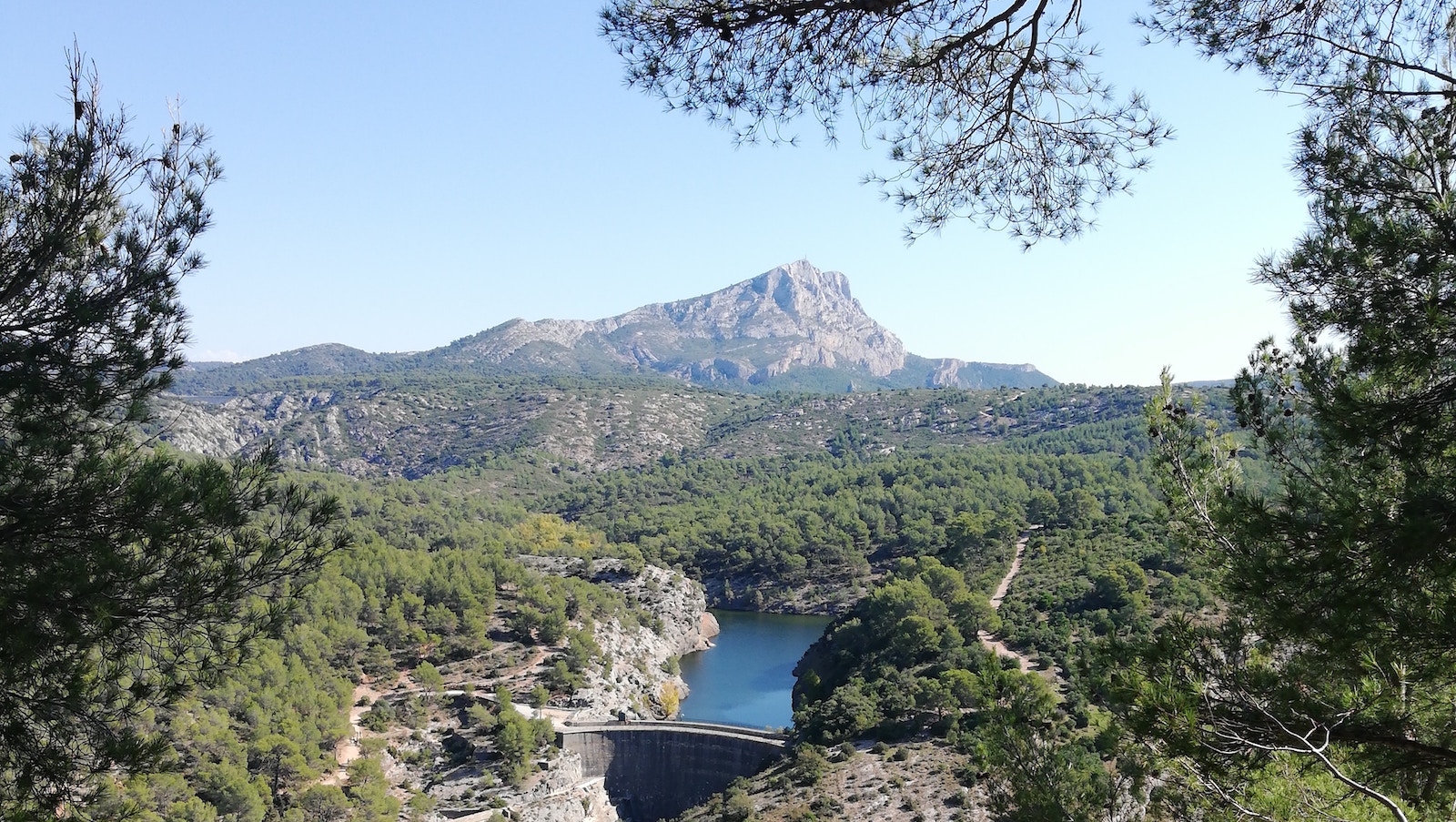 For a memorable romantic moment for two, it's just as important to choose the setting as your room with private Jacuzzi. The city of Aix-en-Provence is the ideal place for this, and that's why we're revealing the 5 most romantic places in Aix-en-Provence. A historic town with extraordinarily beautiful, unspoilt countryside. Choosing our exceptional love room in Aix-en-Provence, close to Marseille, will make your stay unforgettable.
Romanticism in Aix-en-Provence, 5 exceptional places
According to Littré, Romanticism is expressed through "places and landscapes that evoke in the imagination the descriptions found in poems and novels". This relationship between landscapes and the concept of Romanticism is deeply intertwined. Romanticism permeates both our state of mind and the places we consider romantic. With this in mind, we would like to highlight five places in Aix-en-Provence that we consider to be particularly romantic.
The Hôtel de Caumont in the Mazarin district of Aix-en-Provence
In 1795, the Marquis de Caumont married Pauline de Bruny. It was said at the time that the Marquis had taken from Provence its most beautiful daughter, its most beautiful hotel in Provence, its most beautiful château and its largest fortune. A place that underwent an exceptional renovation in 2015. It's our favourite place, where you can have lunch outside or inside, or enjoy international exhibitions. It's the ideal place for a romantic moment with your partner.
Whether you decide to stroll through the gardens hand in hand, share a candlelit meal in an enchanting setting, or simply soak up the atmosphere steeped in history, this estate offers the ideal setting for romantic moments together.
A timeless celebration of love and beauty, perpetuated in this exceptional setting. Don't hesitate to visit our website to find out about our current exhibitions.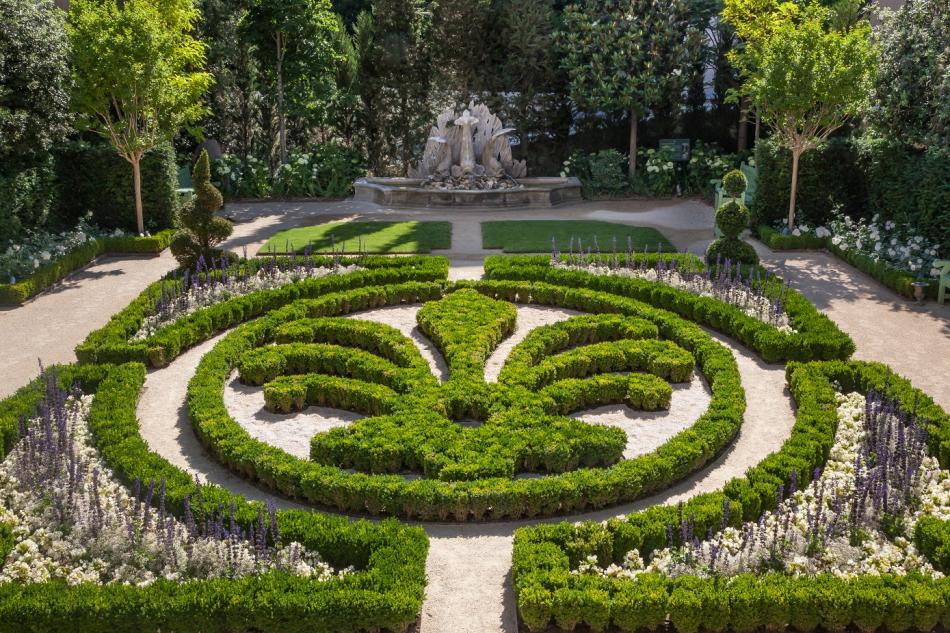 A romantic visit to Château La Coste
Discover this magnificent vineyard, home to several restaurants and art centres, as a couple. Whether you're looking for a romantic dinner or a hand-in-hand stroll through one of Aix-en-Provence's most romantic spots, this enchanting setting is sure to please.
It's the perfect place to enjoy a delicious salad on a Provençal terrace at lunchtime, lulled by the gentle lapping of a magnificent fountain.
Lovers of quality wine will be delighted by the exceptional range of organic wines on offer. In the evenings, gourmets can enjoy refined culinary experiences in our gourmet restaurants.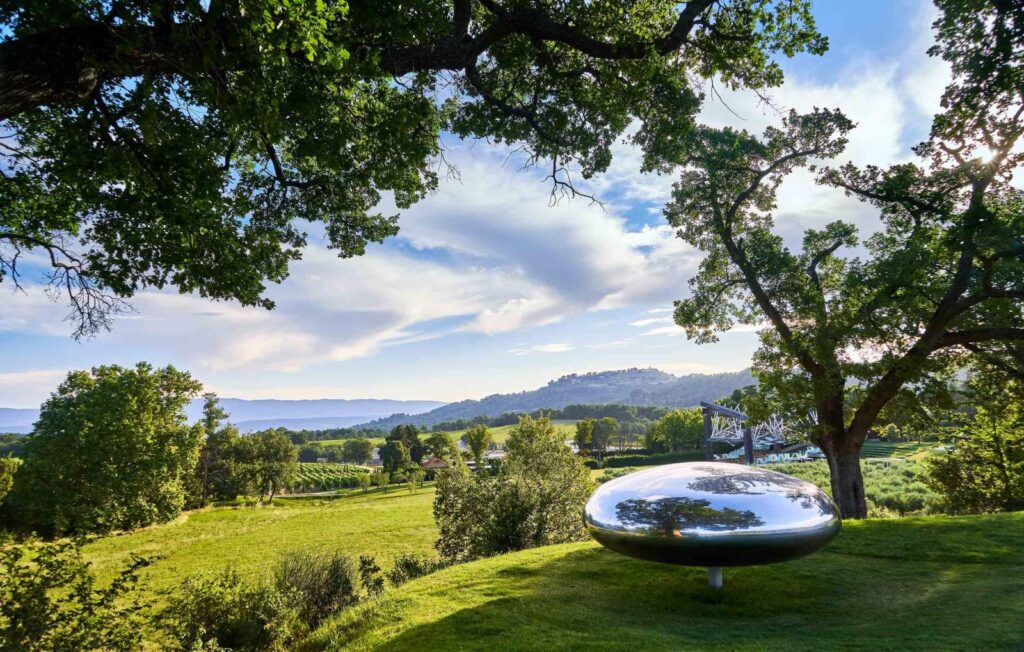 The Cours Mirabeau, one of the most romantic spots in Aix-en-Provence
The Cours Mirabeau in Aix-en-Provence is truly a landmark that continues to enchant visitors over the years. This emblematic avenue embodies the soul of the city, a harmonious blend of history, culture and vibrancy. With a length of 440 metres and a width of 42 metres, it sets a majestic scene where Provençal elegance shines through.
Brasseries and picturesque cafés follow one another, each offering a unique experience. Whether you want to enjoy an authentic meal in the shade of the parasols, indulge in local pastries with a fragrant coffee, or relax with a glass of wine in the evening, the possibilities are endless.
The Cours Mirabeau is the perfect place to stroll hand in hand, to lose yourself in conversation while observing the bustle of life as it unfolds.
Place des cardeurs, a lively and colourful square
This particularly colourful and vibrant square is the perfect place for a romantic dinner. From restaurants with Italian accents, evoking the dolce vita, to Provençal establishments celebrating local delicacies, every culinary choice is an invitation to travel in tandem.
The Place des Cardeurs is not just a romantic spot, it also embodies the liveliness of Aixois life. The lively alleyways, colourful facades and music wafting in the wind add a festive dimension to the experience. By visiting this place, you have the opportunity to immerse yourself in the city's characteristic charm, soak up its bewitching atmosphere and create memories to cherish.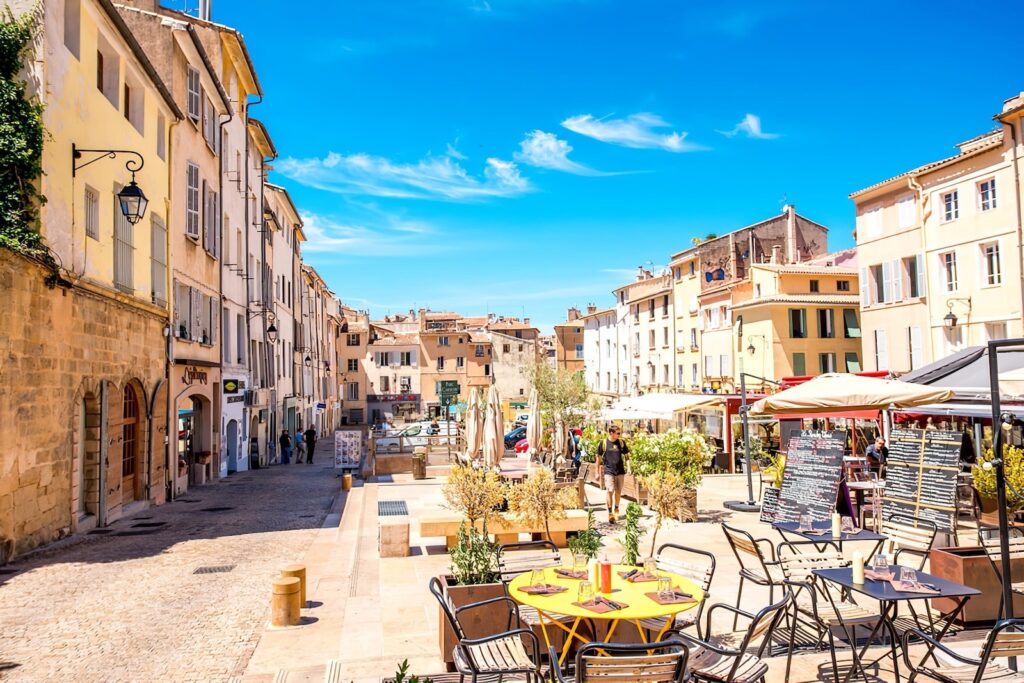 Walking in Bibémus towards the Bimont dam
One of the must-do walks in Aix-en-Provence is along the path between Bibémus and the Barrage de Bimont. For hiking enthusiasts, this complete walk is easily accessible. However, we strongly recommend that you wear suitable footwear to ensure a comfortable walk. Even if you don't choose to walk the whole way, you'll still have the opportunity to admire some stunning scenery. Alternatively, a visit directly to the Bimont Dam will allow you to stroll around and enjoy exceptional panoramic views of our majestic Sainte-Victoire. Bibémus is our last address in this article on the most romantic places in Aix-en-Provence. If you're looking for a restaurant, we invite you to have a look at our article on gourmet restaurants. What will you choose for your next getaway?